Idaho State University, Idaho - White Pine STEM Academy is proud to announce it was one of only two schools in the area to be invited to pilot a program with Idaho South and East EcosySTEM to attend the She Can STEM event at Idaho State University. The event held last Friday is designed for 6th-grade young ladies in the area, offering them the opportunity to explore STEM careers through hands-on labs with the help of local partners such as The Department of Homeland Security, Idaho Power, Idahoan Foods, and others.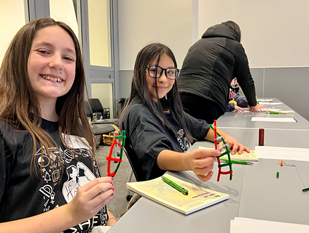 Preslee Chunn and Evalynn Cruz, White Pine STEM Academy 6th graders, exploring DNA chains.
"The She Can STEM event aligns with White Pine Charter School's commitment to providing our students with rich opportunities outside the classroom. "It's not necessarily about science, technology, engineering and math individually, but teaching that STEM is a systematic way to solve problems. When young ladies get to see people that look like them doing hands-on, project based learning, that align with some pretty cool careers, they are inspired to look at college and career paths in a totally different way," said Heather Smith, Community Outreach Coordinator of White Pine Charter School. "We were thrilled to be one of only two schools invited to pilot this program with ISEE STEM and other local organizations to offer our students a chance to engage with industry professionals and learn about the various STEM career opportunities available to them."
The She Can STEM event aims to inspire young ladies to explore careers in the fields of Science, Technology, Engineering, and Math (STEM). By partnering with local organizations, students  have the chance to engage with industry professionals and learn about various STEM career opportunities.
"We are excited to see the positive impact that this event will have on our students' futures," said Smith. "We know that STEM is a great equalizer.  STEM is not just about opportunities for students with the highest test scores, from the most affluent families.  Getting this message out there, with programs like She Can STEM, helps students that might not think STEM fields are for them.  Seeing and hearing from adults working in really cool fields that our students may never have imagined helps expand their horizons!"  
White Pine Charter School has announced that its admissions lottery for the upcoming academic year is now open for registrants. Students interested in attending the school can apply for the lottery until March 30. The lottery drawing will take place on March 31. This is an exciting opportunity for students and families to become a part of the White Pine Charter School community, which offers a high-quality education and a supportive learning environment. Those interested in participating in the admissions lottery are encouraged to register before the March 30 deadline. For more information on White Pine Charter School and its programs, please visit www.whitepinecharterschool.org/parents/enrollment.